Have you ever heard the phase "the only one standing in your way is you"? There were so many times I passed up an opportunity to do something that I wanted to and managed to convince myself, for one reason or another, that I couldn't. I held myself back, shifting blame on to someone else other than myself.
Ah, yes – the blame game! Does this sound familiar to you?
I had to work through some major stumbling blocks of my own to learn how to step outside of my comfort zone. I was tested last month, when I was divinely called by my heart to show up and be fully present for the Celebration of Life for Max Mendoza, a young friend of mine who I never met in person. I literately flew by the seat of pants out to Yuma, Arizona and back to New York over a week-end. It didn't matter what anyone else thought or said. What mattered, is that I knew I had to be there to honor Max's legacy.
I connected with Max through Marcy Neumann, who inspired my brother to write his book, Rocky Spirit – The Rocky Balboa Connection To Success. I was exploring the possibility of promoting the book to college students at Arizona State University where Max attended college with Marcy's son Jacob. Unfortunately, Jacob Neumann was killed in a motorcycle accident prior to us publishing Rocky Spirit and a dedication was made in the book to Jacob's memory. To honor him, I had an idea to donate a portion of the proceeds from book sales to Project U, an organization that Jacob was fond of. For various reasons, it did not come to fruition.
Max graduated from ASU and went off to explore the world but we stayed connected on Facebook. I always enjoyed reading about his epic adventures and his dream to someday go to Brazil. He recently achieved his dream and was there for the World Cup when I saw in a post that he passed away. He fell while hiking at the Waterfall of Souls in Brazil and hit his head. The news of his passing spread like wildfire. It was like an aftershock from an earthquake that traveled to every corner of the Universe.
Max was a modern day explorer. He believed in living outside his comfort zone and explored all that the world and life had to offer, a lesson he learned early on in life from his mother. His mission was to inspire others to live a more full and authentic life. The only peace I felt at the moment, is that Max was together with his best friend, Jacob. They were for sure a Dynamic Duo – like Batman & Robin. The family set up a "Go Fund Me" account to help raise funds necessary to extricate Max's body from Brazil and for the funeral expenses. They planned a Celebration of Life – "A Life to The Max". Count me in!
I immediately made my donation on line. I knew at that moment, I would go to Yuma, Arizona, to finally meet Max and bring him home. I even had a free standby airline ticket. On Friday, August 1st, after work, I headed to the airport. With only two standby seats available, I was able to use a "Super Pass" that put me at the top of the standby list. My name was called and I boarded the flight to Phoenix, Arizona.
I arrived in Phoenix late Friday night. I had no hotel or car reservation and I literately just flew by the seat of my pants – but it felt right. I rented a car and got a hotel room close to the airport for the night. The next day, I headed to the funeral home and waited for Max's body to arrive. A caravan of cars followed the hearse to the Yuma Civic Center for the most incredible celebration of life. I cannot begin to explain the outpouring of love and affection that I witnessed for this young man. I also felt embraced with love and kindness from Max's friends and family, especially his mother and brother. They were truly touched that I made the trip from New York to be there.
The experience moved me more than words can ever say.
It showed me what it means to get out of my own way and make it happen. I was so taken in by this young man's spirit and everything his life stood for. The inspiration and legacy that Max left behind is simply extraordinary.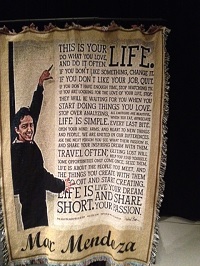 Why am I writing about this? Max was not sick – he was in perfect health, an extremely positive person who was wise beyond his years. He was adventurous in everything he did and explored every aspect of life, the human spirit, and lived life to his full potential. Max lived a life of truth, love, courage and faith.
He believed so much in God and was ready to receive the gift of eternal life at any given moment. His mantra was to live "A Life to the Max"! He taught so many people around the world how to squeeze every ounce of joy and happiness out of their day, to look for the good in everyone and for the bright side in every situation or challenge.
Thinking of the valuable lessons Max taught me, while in Phoenix I reached out to another Facebook friend of mine, who I had not met in person, but also connected with through Rocky Spirit. I was so excited to finally meet Gustavo and his wife Aubrey. Here's a photo of us meeting up at Arizona State University, Max and Jacob's alma mater. I've now come full circle with Max and Jacob and I know that my Rocky Spirit mission is just beginning to unfold at ASU.

Our time here on earth is short.
Learn to live life more fully each and every day. Spend time sorting through your pain and sorrow so that you can feel joy and happiness. Learn to see that the challenges we are faced with will often lead to our greatest successes.
You can get past the pain and fear of moving forward. Email me at Doreen@doreenpolizzi.com or login and sign up for my Survive & Thrive Workbook at www.doreenpolizzi.com to learn more about moving forward and living a more fulfilled happier and healthy life.
Together we will work through what is holding you back from getting out of your own way.
Please feel free to share this newsletter with friends and loved ones who need some inspiration
I dedicate this month's newsletter to the life and spirit of Jacob Neumann and Max Mendoza. I made a promise to their mothers that I will always bring their love and light forward.
 Here's to living "A Life To The Max"!